Celebrities Gather to Celebrate Francis Libiran's 20th Anniversary in Fashion Industry
2019-12-19 | by Nikko Tuazon | PEP.ph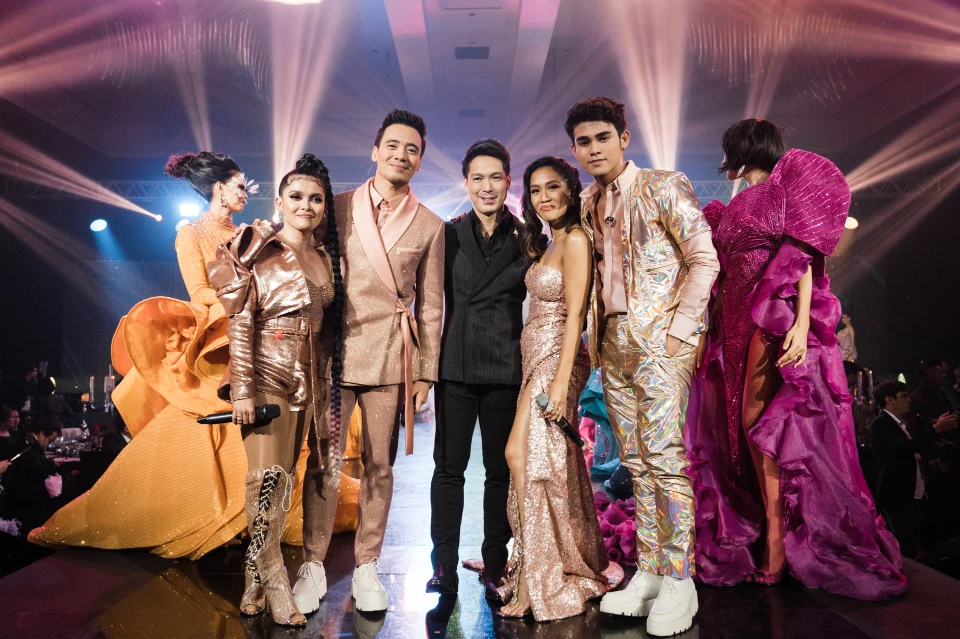 Renowned fashion designer Francis Libiran was filled with gratitude as he celebrated his 20th year in the fashion industry.

Francis successfully staged a spectacle of fashion and music titled Dare To Dream: Francis Libiran Celebrating 20 Years of Fashion and Purpose at the grand ballroom of City of Dreams in Parañaque City on December 2, Monday.

In an interview with PEP.ph (Philippine Entertainment Portal) after the event, Francis said, "I am extremely grateful for having the opportunity to experience two decades in the business.

"I am humbled and blessed to be able to do something I love every day with the support of my loved ones and a fantastic team of dedicated and loyal employees.

"In an ever-evolving and competitive industry, twenty years of being a fashion designer is something to not take lightly.

"This is a milestone to celebrate, as someone in this industry who successfully reaches this point is rare. "Twenty years shows us the sign of triumph over adversity, of strength, and of hope."

Over the past two decades, Francis has witnessed how the industry has grown to the point of global acclaim.

Francis said, "Throughout the years, the Philippines has produced world-class talents in the field of fashion and design.

"The innovation of the arts by Filipinos have become world-renowned. Reaching the international stage tells us that Filipino fashion is recognized.

"Our talent, artistry, and craftsmanship have become more prominent around the globe. We continue to push the boundaries of what we can achieve, making everyone believe further in what we can do."

Francis has dressed several Hollywood stars, including supermodel Tyra Banks, Emmy award winners Darren Criss and Billy Porter, and Aladdin star Mena Massoud.

Asked about his secret to longevity, Francis said the formula is a mix of talent and hard work.

He explained, "There is a constant change in the market's needs, so fashion designers must continue to innovate while still adhering to their core identity.

"Beyond being skilled and talented, one has to possess grit and hard work to achieve goals.

"No matter how talented you think you are, if you don't put in real hard work, it will amount to nothing."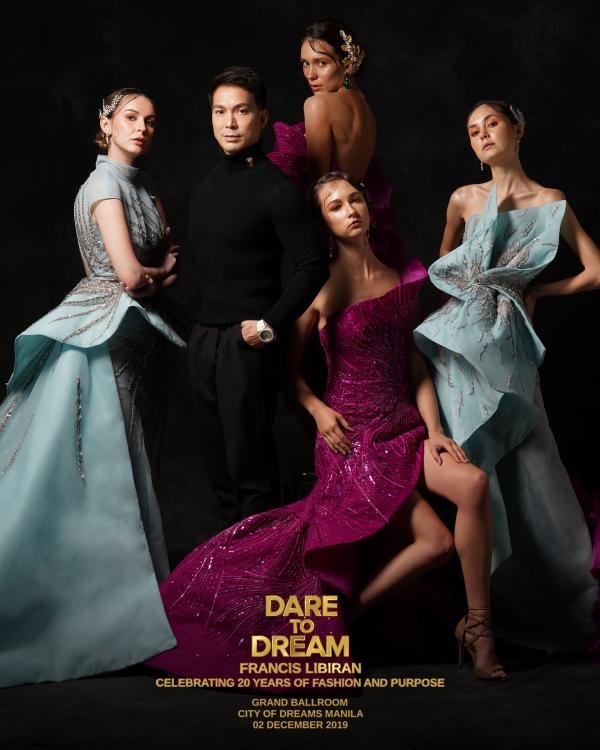 FRANCIS LIBIRAN: NOW AND BEYOND
Francis also unveiled his 50-piece collection at the event.

He told PEP.ph, "The inspiration behind my brand new 50-piece Francis Libiran 2020 Collection revolves around the wonders of the Philippines—the beauty of nature, the vastness of our resources, the pristine waters surrounding our archipelago, the richness and colors of the cultural narratives of our indigenous communities, and the unparalleled craftsmanship of our people."

Francis's 2020 offering is an explosion of color, featuring pastel pieces in subdued hues of lilac, coral, turquoise, and blush. The collection also delivers powerful looks in magenta, cobalt blue, and gold.

What's next for his eponymous brand?

Francis answered, "We are now looking forward to more remarkable years with stronger professional relationships and a bigger presence in the international scene.

"We strive further to give honor to the Philippines by putting our country in the global arena and taking this company to reach greater heights.

"The brand is planning to launch its diffusion line next year and will continue supporting its children's advocacy.

"As we express our gratitude in celebrating these fantastic 20 years that have gone by, we are now eagerly focusing on the years that lie ahead."

Francis raised money for charity by selling limited edition timepieces to support the education and welfare of 75 children from Sitio Kabuhuan in Rodriguez, Rizal. His charitable work is done in partnership with Operation Blessing Foundation Philippines, Inc. through the "Bless A Child Project."
FRANCIS LIBIRAN'S CELEBRITY CLIENTS
Francis' celebrity clients were present at the gala fashion show. Spotted at the event were Darren Espanto, twins Cassy and Mavy Legaspi, and Kyline Alcantara.

Darren and Jayda Avanzado were hailed "Dreamers (Stars) of the Night" during the event.

ABS-CBN news anchor and host Korina Sanchez also won a special award during the gala fashion show.

She thanked Francis for the recognition in an Instagram post and wrote, "I never dared dream of winning prizes of any kind. For some reason, I've ALWAYS worked hard for my fortunes.

"But here it is, where someone took notice that I often give but hardly receive, hahaha!

"Thank you so very much Francis Libiran and Arsi Baltazar! Not only did you mount a beautiful 20 year celebration of Francis' talent and heart.

"You honored some of us who, like you, live with and thrive in PURPOSE. Living with purpose is the #BestLife… That is the prize, your recognition.

"Pero super thanks din sa malaking gift check worth of Francis Libiran clothes that you gave me and Parañaque First Lady Janet Olivarez. Masaya kaming dalawa…Happy dance!"

A proud "Libiran Baby," Kapuso star Sanya Lopez wore one of Francis's masterpieces when she portrayed the role of Danaya in Encantadia. The 2016 remake also starred Gabbi Garcia, Kylie Padilla, and Glaiza de Castro.

Singer Markki Stroem attended the event with theater actress Kayla Rivera and commended Francis for his milestone.

He posted on Instagram, "Happy 20 years in the industry! You are an inspiration to many and as an avid fan of your apparel, I am honored to be wearing one of your truly inspired suits. Here's to the next 20 years!"



Actress Maricar Reyes-Poon left a touching message for the designer on her Instagram account.

She wrote, "Congratulations @francislibiran @francislibiran8… 20 years of making people look their best, helping people through charities & making Filipinos proud in your fashion shows abroad.

"I really hope u felt so loved tonight. Such a job well done… Always a proud #FrancisLibiranBride here!"

Queen of Soul Jaya congratulated Francis through an Instagram post.

Part of her caption read, "Ang saya!!! Congratulations Mr. Francis Libiran and Happy 20th Anniversary…"

Girltrends member Chienna Filomeno looked like a Spanish señorita in her sparkly black gown designed by Francis.

His business partner Arsi Baltazar and general manager Victor Harry Hartman also took part in the celebration.



Christian Mark Jacobs, Francis's husband, made sure to show his support for the designer's latest milestone.

The debut of Francis' 2020 collection featured performances from some of the biggest names in the music scene, including KZ Tandingan, Erik Santos, Iñigo Pascual, and Rachelle Ann Go.